I have covered the songs of the year and given a quick glimpse at the cutting room floor. Now for the most important list of all - albums of the year.
Last year
I only gave my top 5 albums of the year. But there were so many great releases this year, that I found it hard to narrow it down to 5 albums. Hence it is a top 10.
Here we go, counting down from 10 to 1.
10. The Go-Betweens - Oceans Apart
This is the Brisbane band's 3rd album since their reunion in 2000, and it's easily their best since their masterpiece
16 Lovers Lane
. While their last two albums have had their fair share of decent songs, they have been patchy affairs. On this album, Robert Forster and Grant McLellan recapture the magic of their glory days.
Robert finds a renewed energy in his songs
Here comes the city
and
Born to a family
, while Grant reaches the melodic heights that came so naturally to him during their golden years on
The statue
and
Finding you
. This album would be higher on the list if it weren't for what appears to be a mastering problem on some of the tracks, where they sound distorted (especially on the iPod). It's both unfortunate and frustrating that a great album has been tarnished by a technical problem.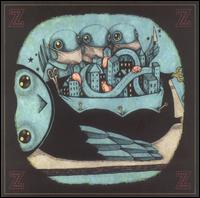 9. My Morning Jacket - Z
If I had such a list, this album may get the nod for cover art of the year. It's unfortunate that the iTunes generation miss out on cover art when they buy music online, because it really enriches the experience. Anyway, this list is not about cover art. It's about music, and I have to give kudos to these guys for releasing one of the albums of the year.
I took a risk with this one, but it did pay off. Almost every track on this album has something memorable about it which helps to differentiate it from the other tracks and enrich the overall listening experience. There's the
Ahhh ahhh
refrain on opener
Wordless chorus
. The backing vocals during the chorus of
What a wonderful man
which sounds like the coolest thing since
The gash
from
The soft bulletin
. What about the classic hard guitar riff which bookends
Off the record
? Or one of the greatest guitar solos from recent memory that makes up the last few minutes of
Lay low
. It's all here on this great album.
8. Oasis - Don't Believe the Truth
Q magazine said that Oasis "recaptured their mojo" on this album, and who am I to disagree? Funny thing was, I thought their last album
Heathen chemistry
was a return to form. But that album pales in comparison to this one, which is easily their best since their heyday of
Morning glory
.
Debut single
Lyla
was a real red herring. It sounded like Oasis-by-numbers, and my expectations were pretty low for this album. But -- and you may find this difficult to believe -- Oasis have actually tinkered with their formula a little bit on this album. Both
The importance is being idle
and
Part of the queue
sound like nothing they have released before. This goes against the entire work ethic of Oasis, the if-it-ain't-broke-don't-fix-it school of thought. Yet, even when they decided "not to fix it", the resultant tracks
Keep the dream alive
and gorgeous closer
Let there be love
were still some of the finest songs they had released in years.
This is a
true
return to form. Let's hope their next album makes this one pale in comparison.
7. Spoon - Gimme Fiction
Can I talk about the first seven tracks on this album for a second? They make up 27 minutes of some of the best guitar/bass/piano/drums rock music I have heard in a long time. In fact, if the album ended after those seven tracks it would be a contender for album of the year for me. Or maybe EP of the year, depending how they decided to market it.
The beast and dragon, adored
is the perfect slow-burner opener.
Sister Jack
is just a great rock song. And you just can't beat that vibe in
I summon you
. The last four tracks are still decent, but they don't reach the heights of those first seven.
These guys are one of the tightest rock bands I have heard in a long time, almost a perfection of the genre. They make standard instruments sound better than almost any other band I know.
6. The Drones - Wait Long By The River


The full title of this album is
Wait long by the river and the bodies of your enemies will float by
, but this is a common abbreviation. Even on the spine of the album, because that's all they could fit. And this is the original album cover, not the dodgy
US version
cover which makes them look they belong on the same bill as The Vines. No, these Aussie rockers deserve much more than that.
This is an absolutely sensational blues-rock epic which quite simply gets better with every listen. Gareth Liddiard has the ultimate cigarette-stained voice which suits the style of music, and the majority of this album is made up of slow-burners which take their sweet time but always pay off in spades. Look no further than bookend tracks
Shark fin blues
and
This time
to hear Aussie blues-rock at its finest.
5. Wolf Parade - Apologies to the Queen Mary
It's very easy to dismiss these guys. After all, they were in 2005 what
Arcade Fire
were in 2004 -- the indie critic's darling. I have lost count of the number of times I have been bitten after buying an album amidst all the hype and talk of a band being "the next big thing".
But this highly anticipated debut album by the Montreal quartet keeps paying dividends for me. Like many great albums, the tracks which spark interest on the first few listens end up being the lesser tracks. Each time I give this album another spin, a new detail emerges from the foliage. The subtle melodies in
Grounds for divorce
. The sheer energy amidst the craziness of
I believe in anything
. Those ultra-sweet harmonies in
Modern world
.
This album may not be perfect, but that doesn't detract from the fact that it's one of the most
interesting
albums I have heard this year.
4. The Eels - Blinking Lights and Other Revelations


I have a confession to make - I once had the Eels pigeon-holed as a novelty band. My first real exposure to them was through the song
Mr E's beautiful blues
from the movie
Road trip
. A fairly poppy song in a teenage T & A flick -- I guess it's really not difficult to see how I jumped to that conclusion.
But I'll admit now that I had this band
completely
wrong. Like their 1998 master-work
Electro-shock blues
, this is an intensely personal and deep work. It almost feels that like album's spiritual sequel, and most of the songs read like diary entries of singer/songwriter Mark "E" Everett.
Like Britt Daniel from
Spoon
, E has one of the greatest set of vocal chords in rock. He writes fantastic melodies to suit his intensely personal lyrics, and has sequenced this album perfectly. I'm not sure if this was intentional, but the first disc sounds like E purging his demons, while the second disc sounds like E reaching solace and acceptance. It feels like a spiritual journey listening to this album, and you'd be hard-pressed to find many other albums released in the last few years that have such emotional power.
3. Super Furry Animals - Love Kraft
I have to admit that my initial impressions of this album weren't very good. I bought it at a time when I was very over-saturated with music to listen to, and the first few spins sounded a bit, how shall I put this,
boring
. And
boring
is never a word I would use to describe anything by SFA.
Eventually, my musical quality assurance department managed to give this album some more once overs. And like everything else this band has ever released, it quickly found its way into the
fucking brilliant
basket.
SFA hinted at democracy on their last album
Phantom power
, when lead singer Gruff Rhys handed over vocal duties for one song (
Sex, war & robots
). If that was their
The boy with the arab strap
, this is their
Fold your hands child
. These guys are a fully-fledged democracy now. The revolution has occurred, even if it wasn't televised.
If any other band did this, you'd expect some teething problems and a patchy record. Here's the irony -- this is probably SFA's most unified, focused and "normal" sounding album to date. Debut single
Lazer beam
, one of the weirder SFA songs released, was a red herring. The rest of the album is predominantly made up of ballads with a generous sprinkling of SFA's 11 herbs and spices.
SFA have now released 7 brilliant albums and 1 excellent rarities compilation in their 10 year life. That averages out to almost a top shelf album per year. How many other bands have that kind of hit rate?
2. Sufjan Stevens - Illinois
It's good when you have an interesting story to tell when explaining what made you get an album. Unlike many fans, I wasn't terribly impressed with Sufjan's first entry in the "50 states" project -
Michigan
. I understandably had reservations about getting this one, even though the ecstatic reviews intrigued me.
Then the whole
Superman
debarcle happened. For those who don't know, DC comics threatened our good man Sufjan with a lawsuit unless he removed the image of Superman from the album cover. Sufjan, being the good Christian man he is, quickly obliged. Shortly after, I was perusing the alternative section at JB when I spotted several copies of
Illinois
on the shelf.
Several still had the image of Superman
. It didn't take me very long to justify the purchase. Even if I didn't like the album, I could sell it on eBay as a collector's item. I could almost picture the headline -
Sufjan Stevens - Illinois [*RARE* Superman Cover]
. It was a no brainer, I couldn't lose.
The fact that I still have the album after all these months (when I could probably make a fair quid on eBay) it a testament to its greatness. Yes, Michigan only hinted at the heights that Sufjan reaches here. And even though this is a longer album by about 8 minutes, it feels oh-so-shorter. Something about time flying when you are enjoying something, and all that.
Illinois
can be appreciated on so many levels, it is a multi-faceted album of beauty and intelligence. You could treat it as a
Lonely Planet
guide and arrange your trip around the people, places and events that Sufjan writes about. You can marvel at how Sufjan can throw in every instrument
and
the kitchen sink yet still make it sound like the most perfectly produced record of the year. Or you can just enjoy it for the brilliant album it is. I'll take the latter.
1. Antony & The Johnsons - I Am A Bird Now
I love music as much as the next guy, but there's no denying that it is a fairly repetitive art form. As good as an album can be, you're still generally mixing together the same ingredients so eventually your cake is going to taste fairly similar to someone else's.
This album is one of the few from recent memory which transcends the musical art form for me. Within a few listens, Antony was up there with the likes of Tom Waits as an artist who I can truly call unique. His voice is one of the most stunning instruments I have ever heard, and this alone elevates this album to the top of my list.
What locks this album into the number one position is the
journey
that it takes the listener on. Many artists can write a great song, less artists can write a great album.
I am a bird now
is more than an album: it is a perfectly-sequenced spiritual awakening, and one of the most honest set of songs ever committed to vinyl or CD. Antony has let us into his heart and mind, and for this we can only be thankful.